Lubricite does more than sell its 77 French Polish, since we also have a great selection of brass lacquers and metal lacquers for sale! You can check out our products page to see the brass lacquers. These lacquers can be put on all things metal. We have a very unique formula we developed decades ago that makes the lacquer never flake, peel or chip. It is made to last and we are sure that you will have positively glowing results.
For more information about all of the lacquers, primers, and other coating products we sell please contact us today. We will happily answer any questions you may have regarding our selection of products. You can also reach out by calling us: 1-888-659-5529. When you call, we can go over all of the pricing details. As well as discuss the benefits and uses for the products we sell.
Examples of Our Brass Lacquer in Use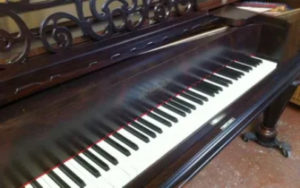 There are places in daily life where you might have seen our brass lacquer and metal lacquer in use and not noticed. For instance, the star that you see for the Make-A-Wish foundation is coated in our brass lacquer. And the metal name sign in the lobby of the Waldorf Astoria is our stuff too! So if you are a company looking for a brass lacquer you can trust, turn to Lubricite! Our lacquers and finishes work great with trinkets, antiques, finials for lamps, metal parts for aviation companies, on instruments, furniture and much more! This makes us the perfect partner for upholsters, antique dealers, hotels, and restaurants.
Our Brass Lacquers For Sale
Our brass lacquers for sale are made to last and will never peel. They will also stick to aluminum if prepped properly and mixed with 20% etching thinner.
CL346 Clear Gloss Brass Lacquer – Our clear gloss metal lacquer never flakes or peels. Needs to be out before use with our #219 REDUCER, a slower drying thinner.
CL 369 Cleat Satin Brass Lacquer – Our clear satin metal lacquer never flakes or peels.
CL396 Clear Gloss Brass Lacquer – RFU (Ready for use) for dipping metals.
The 346 clear gloss brass lacquer and 369 clear satin brass lacquer need to be thinned out with our thinner. This is a slower drying thinner made specifically for the brass lacquers we sell. It is made to last!
Check out our complete selection of metal lacquers for sale and learn more about the benefits of metal lacquers. These lacquers have many wonderful uses across industries.