Buy Lubricite for a Shellac Based Finish
77 Lubricite is an open secret of professional wood finishers around the country and is the ideal wood based shellac for those who prefer French Polish/Hand Finish to refinish, restore, revive, repair or glaze wood antiques. When you use this product properly, the end result is a finish that surpasses all expectations!
For more information about this wonderful item, please contact us today. We will gladly answer any questions or concerns you may have about using the lacquer. We can also help you properly use it and give you instructions so you can get the best finish possible! So please, do not hesitate to give us a call today! The number for our office is 1-888-659-5529. Get the best shellac based finish money can buy!
The Benefits of Our Shellac Based Finish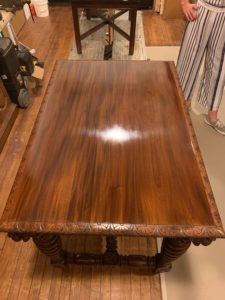 Our product offers each user a set of unique benefits. Here is a quick rundown of some of the best benefits you'll find when using 77 Lubricite for a shellac based finish:
Works on any wood type and atop any new or existing finish
You can add color to any piece by mixing 77 Lubricite with our alcohol stains
You can mix 77 Lubricite with dry powders for repairs/scratches/touch-ups
It dries in minutes, so it is perfect for on-site work
It does not have an offensive odor
Pads on smooth with thin layers which produces a beautiful finish
Diminishes imperfections while also building the finish
It is compatible with leather or leather top tables
Be sure to check out our Youtube page to learn about all of its features and application methods!
Use 77 Lubricite on Leather
And you can use our shellac based finish on leather, too, which in not something you'd ordinarily expect a product that has shellac in it to do. You can use it to glaze on color and effectively seal the leather. Since it has a little bit of oil in it, Lubricite 77 also keeps the leather pliable. We have many customers with who work for high-end furniture stores that use this product safely on their leather. Join the club and use this wonderful product today! Learn more about using it on leather and make the change today to Lubricite 77! Get your leather furniture and antiques looking good!
About 77 Lubricite
We are proud to introduce you to Lubricite Finishes, a perfect woodworking shellac. Our grandfather developed this is our flagship product and we are happy to carry on his legacy. He developed this long-lasting shellac based padding lacquer formula in 1948 to eliminate the time-consuming methods of mixing shellacs, solvents, waxes, and oils in order to get the best finish. So, you can say it is a one-of-a-kind lacquer and ready to use for the French polish technique. And as cliche as it might sound, there is nothing like 77 Lubricite on the market. Even popular, well-known labels have failed to replicate our tried and true formula. It is the perfect fine wood antique finish on the market.
You might not know it, but you have probably come across our product before. It is popular amongst hotels, restaurants and wood and leather manufacturers. So you might have seen a wood item with a perfect finish and not known it was 77 Lubricite that was used. Upholsters, antique dealers, and fine furniture restoration and repair experts commonly use our product. And you can even find it on wood instruments, clocks and music boxes. We are proud of the finish it provides and love seeing finished products, which you can check out on our gallery page. 77 Lubricite is the most unique shellac based finish you'll find!